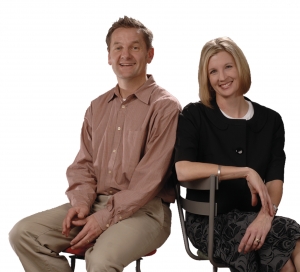 The Morning Meeting with Simon & Renee
Weekdays, 9am – 11am
Email the show at MorningMeeting@Cumulus.com or by clicking here!
Want to get a feel for Columbia, Missouri, USA? This is the show. Sure, they may not have the same beliefs, tastes, or even nationality, but the one thing Simon and Renee have in common is that they are 100% supporters of their city. But like any growing, prospering city, not everyone agrees to what is best. Rest assured, neither do these two.
Stop by the Morning Meeting any weekday between 9am and 11am central time and you will hear all sides of the issues important to Columbia. Plus, you will probably leave with a healthy dose of gossip as well.
Simon Rose is from Manchester, England. He was a foreign exchange student in high school, and came back to attend the University of Missouri- Columbia in the 1980s. He started his career with this radio cluster over 25 years ago, and never left Columbia. He has a wife and two sons. Simon is a health nut, enjoys biking and is a HUGE fan of Manchester United.
Renee Hulshof joined KFRU's local program, The Morning Meeting, in 1998 alongside long-time cohost Simon Rose.  A 1990 graduate of the University of Missouri School of Journalism (broadcast sequence), Renee is married to Kenny Hulshof. They have two daughters, Casey and Hanna. She and Kenny own and operate Kenny's family farm in southeast Missouri, where they grow potatoes, corn, wheat and soybeans (and some sweet corn for the annual KFRU sale!). A parishioner of the Newman Center Catholic Church, Renee stays busy off-air doing part-time strategic communications, being a dance mom and supporting numerous community causes.
Follow Renee on Twitter! @ReneeHulshof